---
Guide to Computer Forensics
---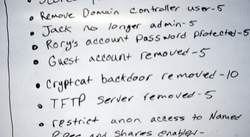 This course is an introduction to the concept of computer or digital forensics. It is designed for the novice - in this case, students whom has at least an introduction in the basic concepts of computer networking and information security.
---
---
| | |
| --- | --- |
| Modules | Chapters - Forensics & Investigations |
---
| | |
| --- | --- |
| Great Resources | Articles & Documents You SHOULD Read! |
| | |
| --- | --- |
| Labs and other hands-on | Question Worksheets |
---
Looking Ahead

Digital Forensics is one of the fastest growing occupations in the world. There are more jobs than there are qualified people to fill them. To give a little perspective, you are part of the infancy of the digital revolution - the very beginning. There are great things ahead of you and you can be part of history by being one of the pioneers of digital forensics. All you need is imagination and creativity. Imagination + Creativity = Innovation!
The video on the left is what I want to see in the present storage room. We could be one of the first high schools to have such a lab. I'm working towards it. And you could start your pioneering journey fight here in our own classroom.
---
Helpful Videos
---
---
Want More Digital Forensic Videos? Click Here!