---
Links
| | |
| --- | --- |
| Other Pages for Resources | Other UrbanTeach Links |
---
What is Technology?
'technology is the practical application of knowledge so that something entirely new can be done, or so that something can be done in a completely new way.'
ESA:
http://www.esa.int/esaMI/Technology/SEMYSRWPXPF_0.html
Historian Maury Klein
notes that the introduction of the word "technology" in its modern sense comes as early as 1829, when Jacob Bigelaw published his book
Elements of Technology
. Bigelaw defined the term as "the application of the sciences to the useful arts."
http://www.copyhype.com/2012/04/what-is-technology/
tech·nol·o·gy
/tekˈnäləjē/Noun:
The application of scientific knowledge for practical purposes, esp. in industry: "computer technology"; "recycling technologies".
Machinery and equipment developed from such scientific knowledge.
---
Sample Syllabus
---
Tech News Sources
---
CyberPatriot
CyberPatriot is the premire national high school cyber defense competition that is designed to give hands on exposure to the foundations of cyber security. CyberPatriot is
not
a hacking competition. CyberPatiot's goal is to excite students about Science, Technology, Engineering, and Mathematics (STEM) education.
Falcon High School will compete in the CyberPatriot compitition this year. For more information please click on this link:
CYBERPATRIOT
The Best in Colorado
For the 2013-2014 season, Falcon High School has won the state competition, came in third in the regional competition and placed 17th in the nation during the semifinals competition! It's been a very successful year. Participation has more than doubled from the previous year thanks to the new aspect we called Hack NIght, a weekly meeting where we invited anyone who was interested in information security and cyber security. During that evening we practiced on OS images and shared knowledge and techniques that enabled us to do very well in the competition.

---
SEMtech (click "SEMtech" to see page)

SEMtech stands for Student Engagement and Mentoring in Technology. It is an after school program designed to help students gain an interest in computer science with the hope that they will eventually enroll in AP computer science courses and move on to major in computer science in college.
---
Chess Club

Chess is a game; maybe the best game ever invented. It's a profound intellectual activity and it's a lot of fun! Falcon High School is just starting a chess club this year and we're looking for lovers and beginners alike. Chris Varga is the Chess Club President of Falcon HIgh School. We have exciting plans and we'd like for you to be a part of it. If you are interested please contact myself or Chris. For more information, go to our Chess Club page, click on the link:

Falcon High Chess Club
---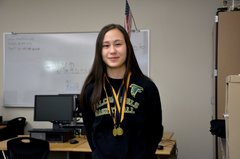 If I were to write of all the accomplishments that Kiana Harkema has accomplished during her time at Falcon High School, I would not have enough room. The first thing I would say is that, just like Beau Curnow (see below), Kiana is extremely smart. But also like Beau, that is not what I admired about her the most. What I admire about Kiana is her work ethic; putting in the extra time to get things done. Her dedication is what put her on top. Kiana is on her way to University Colorado Boulder, on a full ride academic scholarship. That alone should say something about her. So I don't have to mention her being the Salutatorian for her class, being the first Falcon student to win both the Boettcher and Daniels Scholarship. She was the captain of the first all girls CyberPatriot team, President of FBLA, and the Chess Club. Kiana won the NCWIT (Women in Computing) Award 3 years in a row; the only student in the district to do that and raised tons of money by leading her follow FBLA students in fundraising activities and community service. She managed this while playing 4 years of basketball. I could say much more about her accomplishments, but I think her future will say more than I ever could.
---
---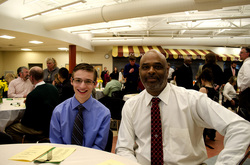 Beau Curnow is on his way to BYU this fall. He's had quite a great year; leading his CyberPatriot team to first place in Colorado and to the national semifinals were they placed 17th in the nation. Beau is also an FBLA member, making it to the state finals in the Cyber Security competition and as if he didn't have enough to do, he is the captain of the Falcon High School Chess Club, and the salutatorian of his class. On this night (pictured on the left) he honored me as his teacher. However, with a student like him, he could make any teacher look as if they know what they are doing. The thing I admire most about Beau is that he never rest on his intelligence. I witnessed the type of hard work he puts in and his dedication to excel academically. No one is going to outwork him. This attitude is the foundation for his success and it's that same work ethic that will ensure he has a very bright future ahead of him.
---