Don't Call It A Comeback, We've Been Here For Years!
The Falcon High School Chess Club has been around for a long time but the past few years we've not been as active as we were previously. But this year is different. We have new leadership and a commitment to carry the Chess Club to new heights. We'll have lessons, tournaments, food, fun and music. My room is re-arranged to accommodate more players. I'm looking forward to playing everyone in the club and yes, I take great pleasure in beating everyone, regardless of age! So on Tuesday afternoons, bring you mother, father or little sister and if they don't know how to play, we'll teach them. We are looking forward to a great year.

Mr. Russell
Chess News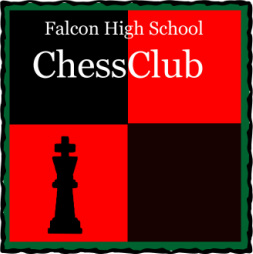 The membership of the chess club has been growing! Presently, we are working through a tournament with nearly 40 people. Additionally, we have just ordered 10 more chess sets. That brings the total amount to 18 boards. the money was raised by selling donuts three days a week. Presently, I'm saving money to buy t-shirts. I have designed the logo on the left to be used as the Chess Club logo. I hope to sell some shirts so we can purchase clocks and books for our members. Once basketball season is over, I will be able to get things in full swing, meanwhile, keep showing up every Tuesday and play as much as possible.
---
Join The Chess Club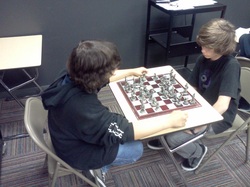 The game of chess dates back to over 1500 years. The great thing about chess is that it encompases the skillsl of math and logic. It's a game of intuitive vision and strategic creativity. It enhances reading and math skills as well as builds self esteem. It's addictive in the right kind of way. You'll get much more out of this type of addiction than you would in a video game. If you don't know how to play, we'll teach you! You have nothing to loose. Contact myself, Mr. Russell from the Technology Department or Chris Varga, The Falcon High school Chess Club President.
---
Chess Club off to a great start!
Falcon High School Chess club held its first meeting on September 15. Thirteen Students attended the first meeting. The skill levels range from beginners to highly skilled. Chris Varga, the Chess Club President gave lessons on opening moves and basic strategies. After that the chess boards were taken out and the players played each other in spirited matches. The members agreed to meet once a week, every Tuesday from 2:45 until 4:45 in the library.
The 2012 Colorado Springs Scholastic Chess Series (CSSCS)
The CSSCS is a series of monthly chess tournements. The series offers opportunities for players of all ages, grades and skill levels. All participants win awards, there are individual and team trophies, and scores accumulate for year end awards. There will be at least one tournement a month with the first starting on October 8th. All tournements will be held on Saturdays. Entry fee is $15 dollars per tournement or $84 for the entire series ($12) per-event). As a team we will decide how best to participate in these events. The schedule is listed below.

October 8: The Opening (With TEAM Trouphies added)
November 12: The Main Variation (With CLASS prizes added)
December 10: The Holiday Middlegame (With TEAM Trouphies added)
January 14: The Holiday Transition (With CLASS prizes added)
February 11: The Pre-State Endgame (With TEAM Trouphies added)
March 12: The Combination (With CLASS prizes added)
April 14: The Series Fanale